The term "Ginataan" is used for dishes that use coconut milk to thicken the sauce. A fresh coconut is the best ingredient that you can use for this Ginataang Langka Recipe. In the Philippines, coconut trees in the middle of barrios are common sights. Men would climb these tall trees and harvest bunches of coconuts that they would use in different ways and from these coconuts, the milk comes and that's what is going to be used for the dish.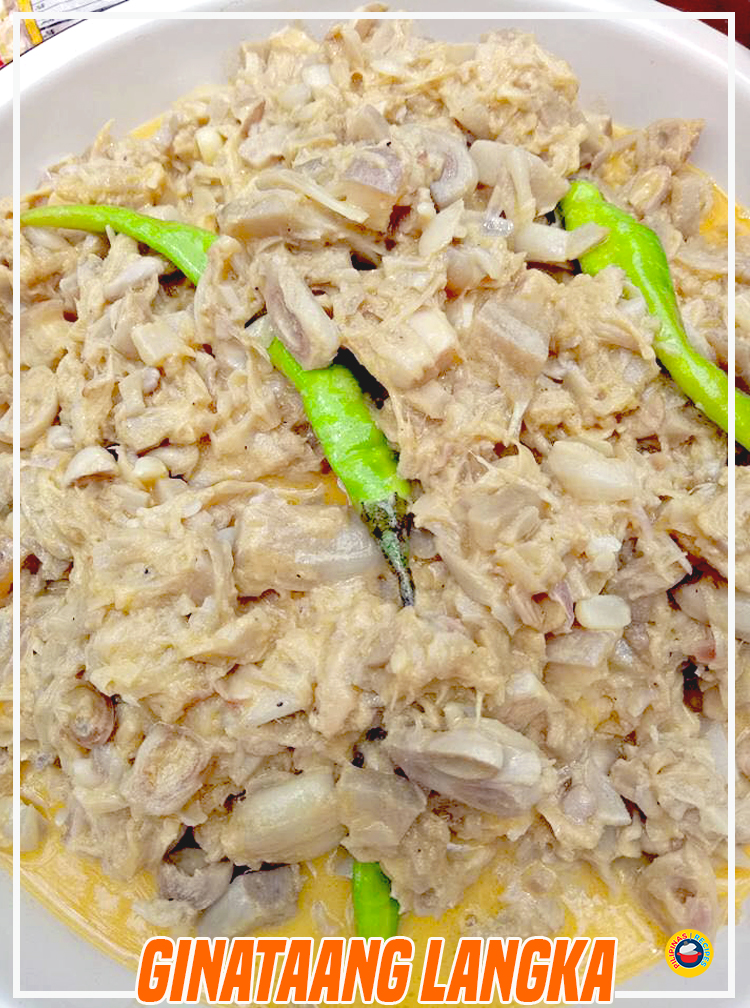 Langka (Jackfruit), on the other hand, is a fruit that doubles as a vegetable when still young. Its meat is used for such dishes. Other ingredients include pork meat and chili. Some people also use sugar for the Ginataang Langka Recipe because they like it sweet and spicy. Both green and red chili can be used depending on your capacity for hot foods. Many household cooks too let the dish turn oily because that's when the flavors really come out together perfectly and it's when the langka is already tender.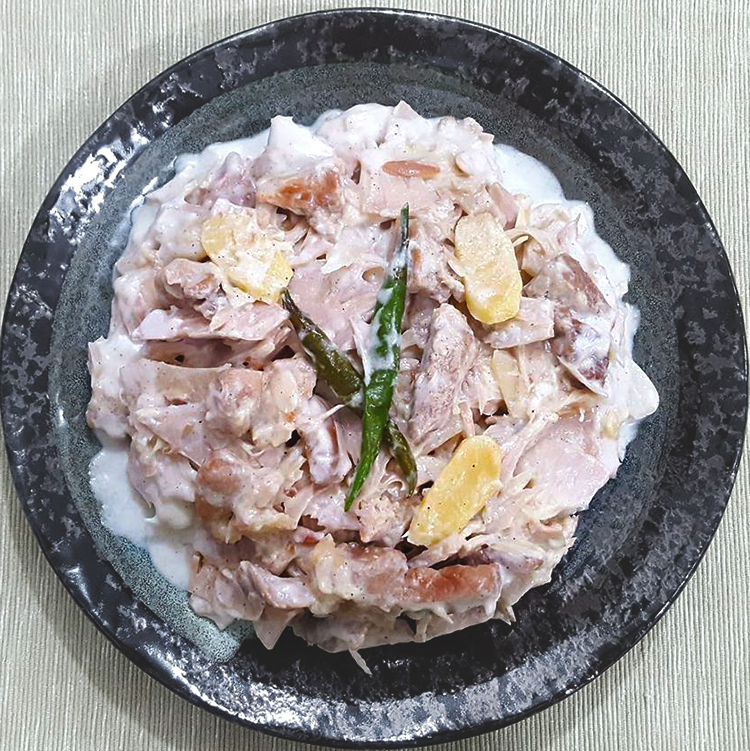 Ginataang Langka Recipe Tips
Ginataang Langka Recipe may not be as common or popular as Ginataang Laing (Taro Leaves and stems cooked in creamy coconut sauce) but it's also a must try dish that is truly Filipino. The amazing thing about using Langka and coconut milk in cooking is that you get all the health benefits they both have. For instance, Langka can fight wrinkles, give a glowing complexion, helps achieve flawless skin, boosts energy and immunity, has vitamin A, promotes hair growth, regulates high blood pressure, gives relief to asthma and many more while coconut milk also improves cholesterol levels, normalizes blood sugar, aids in preventing ulcer, improves digestion, moisturizes the skin and helps prevent arthritis and joint pain
Print
Ginataang Langka Recipe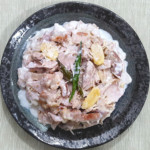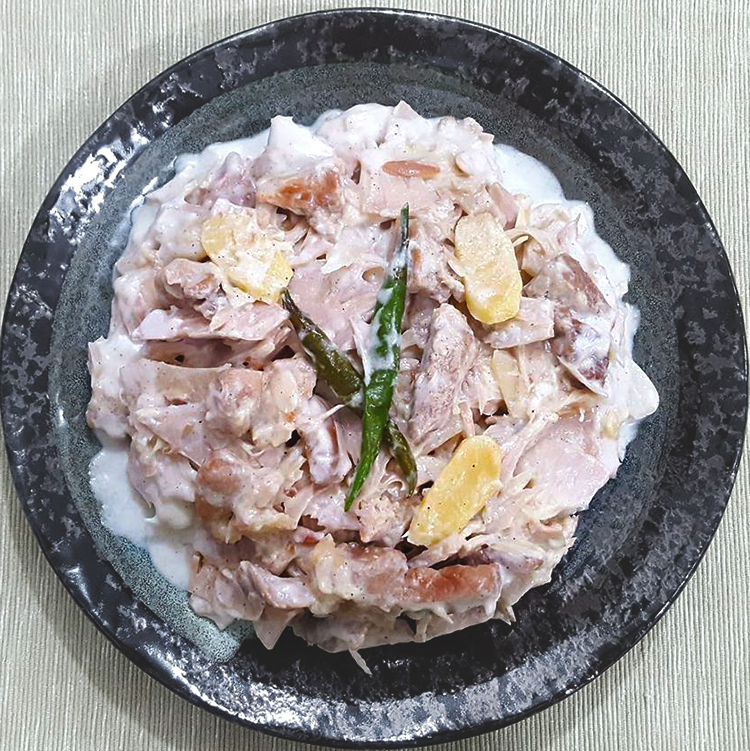 Ginataang Langka Recipe may not be as common or popular as Ginataang Laing (Taro Leaves and stems cooked in creamy coconut sauce) but it's also a must try dish that is truly Filipino
Author:
Prep Time:

5 mins

Cook Time:

15 mins

Total Time:

20 mins

Yield:

4

Category:

Entree

Cuisine:

Filipino
Ingredients
1/2 kg. Unripened Jackfruit
2 cups Coconut Milk
1 cup Coconut Cream
5 cloves Garlic, minced
1 medium Onion, diced
1 tablespoon Shrimp Paste
4 cloves Garlic, minced
1 medium Onion, chopped
2-3 Long Chili Peppers
Salt and Pepper
Cooking Oil
Instructions
In a Pan, saute the garlic and onion.
Mix in the shrimp paste and jackfruit and cook for 1-2 minutes.
Add the coconut milk and bring to a boil then turn the heat down to simmer until the vegetable is slightly tender, about 10 – 15 minutes.
Stir in the coconut cream to thicken the sauce, together with the long chili peppers.
Season with salt (as needed) and ground pepper to taste.
Adjust the ingredients according to taste.
Best Served with Rice
Notes
This video shows another recipe for ginataang langka.
If you want to add Pork on your Ginataang Langka, saute the garlic and inions and then add the pork and cook until brown.
Nutrition
Serving Size:

259 g

Calories:

402

Sugar:

21 g

Sodium:

291 mg

Fat:

28 g

Saturated Fat:

18 g

Unsaturated Fat:

10 g

Trans Fat:

0.1 g

Carbohydrates:

29 g

Fiber:

2.2 g

Protein:

13 g

Cholesterol:

28 mg
Keywords: vegetarian, healthy meal, coconut milk base, easy
Most Ginataang Langka requires no sauteeing anymore. Usually, the ingredients including the pork are simply tossed together and cooked in the coconut milk until tender and oily or the coconut milk is cooked first then the Langka and Pork are added. Either way, the result is always good for this kind of dish. Meat lovers can still have fun eating this vegetable dish. You could say that this originally from Bicol dish is well-loved by everyone and you could adjust the saltiness and most especially the hotness of the dish. If you could tolerate hot foods then all the better. Just eat it with steamed rice on a cold lunch get together and it's all good. Ulalalam!!! :p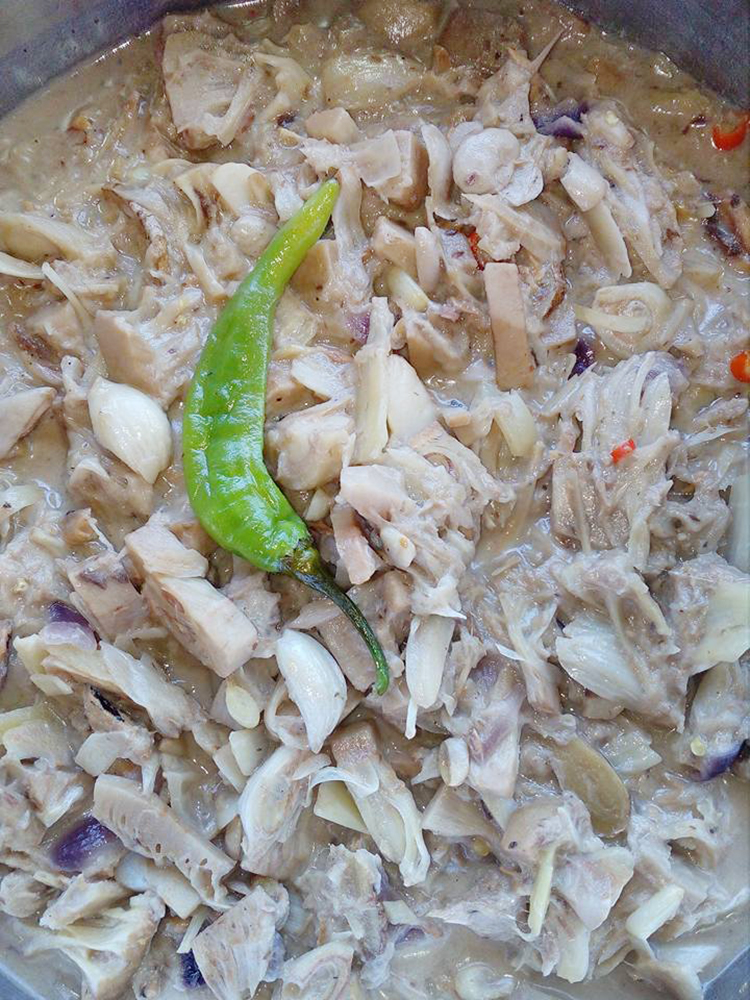 Questions, Suggestions regarding the Recipe? Leave comments below. Don't forget to Follow us and Like Pilipinas Recipes on Facebook. Mabuhay!!