This Okoy recipe really shows how Filipino food is all about the celebration of local ingredients, various textures, and harmony of flavors. Whether it's a light snack, a home-cooked meal for the family, or a grand gustatory affair like a town fiesta, Filipinos will always put their best food forward.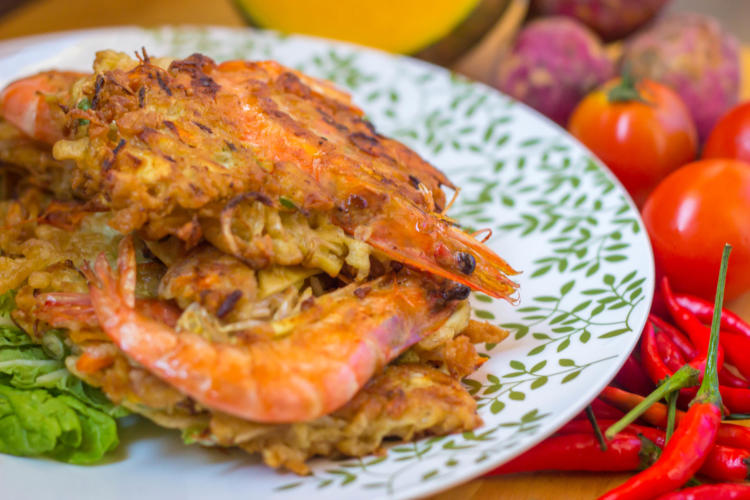 Local ingredients are often the star of the palengke (local market) — from locally harvested vegetables to freshly caught seafood. By combining these two favorites, Pinoys have created a quick and tasty dish called "Okoy" or vegetable fritter. The addition of hipon (shrimp), or its dried variety called "hibi", makes this dish even more special.
Okoy is usually made using thinly sliced sweet potato, papaya, or mungbean sprouts. Coated and bound together with a light batter, it is then fried to golden brown and crispy perfection. Traditionally, it is served with spiced vinegar for dipping.
Our version of this healthy local favorite will surely brighten up your mealtime.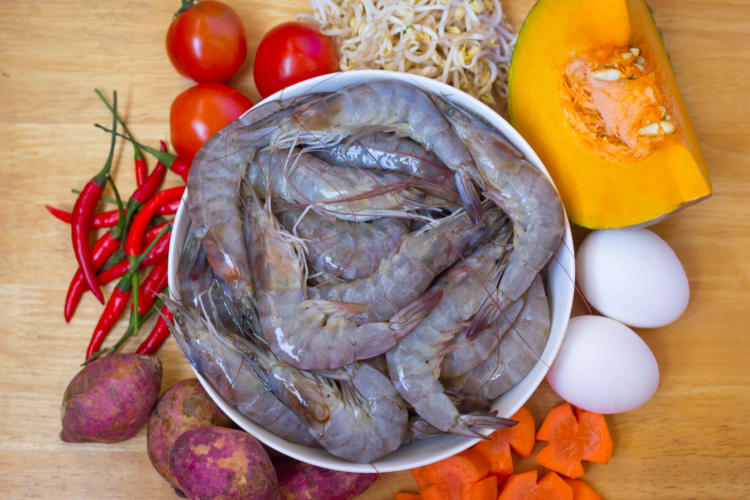 Okoy Recipe (Vegetable Fritter with Shrimp)
Okoy is a quick and tasty way to enjoy vegetables.
Author:
Pilipinas Recipes
Ingredients
1 kilo Shrimp, cleaned
200 grams carrots, peeled and julienned
200 grams sweet potatoes, peeled and julienned
200 grams mungbean sprouts, washed
100 grams green string beans, julienned
Vegetable oil for frying
For the Batter:
100 grams cornstarch
⅓ cup cold water
3 medium eggs
1 tsp salt
½ tsp ground black pepper
Instructions
Peel, wash, and thinly slice the vegetables. Thin slices (julienne) will ensure that the vegetables are cooked thoroughly.
Clean and devein the shrimp. Roughly chop the shrimp and set aside. Leave about 5 to 6 pieces of shrimp intact.
In a large bowl, pour the ingredients for the batter. Mix well until there are no lumps of cornstarch.
Once the batter is thoroughly combined, mix in the chopped shrimp, sliced vegetables, and mungbean sprouts. The mixture should be thick for maximum crispiness.
Heat up a pan with about ½ inch of oil over medium fire. You can test if the oil is ready by placing a small drop of batter on it. Small bubbles should fizzle around the drop of batter.
Carefully scoop two spoonfuls of the mixture into the hot oil, then place one piece of whole shrimp on top of the mixture. Once both sides are golden brown and crisp (3-4 minutes per side), it is ready.
Crispy Okoy Preparation Tips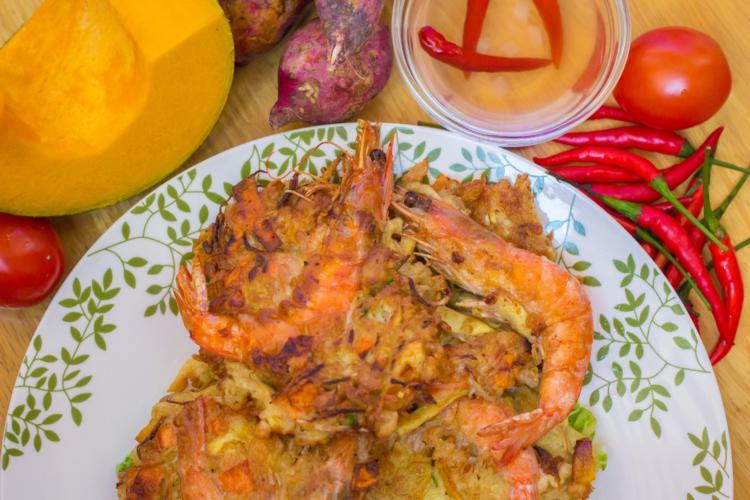 The trick to crispy Okoy is using cornstarch instead of flour. Another key thing to remember is to make sure the oil is hot enough for frying, so the Okoy won't absorb too much oil.
Crispy Okoy is best served with spiced vinegar for dipping, so the acidity will cut through the richness of the batter and complement the slight sweetness of the fresh shrimp, while the heat from the chili will add a little kick of flavor.
This is definitely a dish that will turn even the pickiest eater into a vegetable lover. It's a great way to encourage kids to eat their veggies and seafood.
PS: We appreciate any suggestions or ideas to improve this recipe. Just comment below. Remember to like our Facebook Page for more Free Filipino Recipes. Simply click this LINK or search "Pilipinas Recipes" on Facebook. Thank You!