Nothing could be simpler than this Ampalaya With Egg Recipe. It's a healthy dish made of only two main ingredients plus onions, garlic, and seasoning. Ampalaya or "Bitter Gourd" belongs to the Cucurbitaceae family and is a tropical and subtropical vine. It's fairly common in Asian households and used not only for cooking but also for medicinal purposes. Ampalaya has many benefits like helping control spike in blood sugar levels, preventing risk of getting respiratory infections like Pneumonia, prevents inflammation, boosts immunity, helps with abdominal pain, constipation, cramps and fluid retention, helps with fever and coughs, helps with menstrual problems, treats skin illnesses like eczema, scabies, and psoriasis, has proven antiviral, antibacterial, anthelmintic properties and a lot more.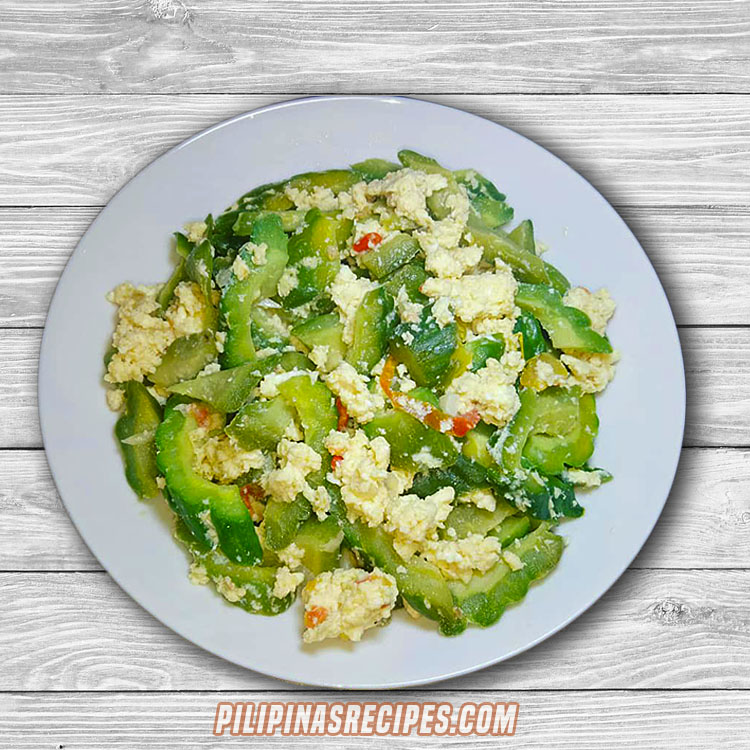 Aside from Ampalaya, an Egg is also the main ingredient in this Ampalaya With Egg Recipe. Like Ampalaya, egg also has its fair share of health benefits like it raises the levels of good cholesterol and it doesn't have an adverse effect on cholesterol levels, it has choline which is good for the brain, lutein and zeaxanthin which are both good for the eye, omega 3 from pastured eggs for lower triglycerides, protein, vitamin A, folate, vitamin B5, vitamin B12, vitamin B2, phosphorous and selenium which are all needed by the body to complete different functions. The Egg can also fill the stomach quite easily without adding too many calories.
Ampalaya with Egg Preparation Tips
The combination of the two main ingredients plus the onions and garlic makes this Ampalaya With Egg Recipe quite special even if it's just a simple dish. Most people would choose to not overcook the ampalaya because the crunchiness is perfect when matched with the cloudy softness of the egg and the mushiness of the garlic. People with loose teeth though would beg to differ. There's also a constant debate as to whether a more bitter ampalaya is better than the ones that are milder. They also say that the more bitter the ampalaya the better health benefits you can get from it.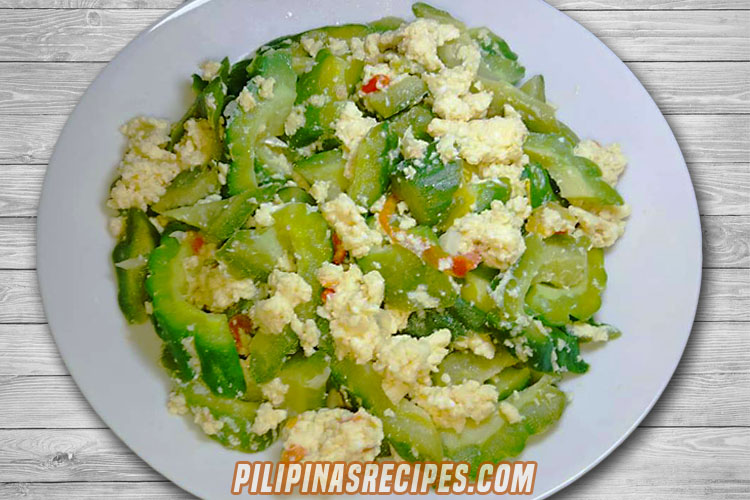 Ampalaya with Egg Recipe
Author:
Pilipinas Recipes
Ingredients
2 medium-sized Ampalaya
2 eggs, beaten
salt
pepper
cooking oil
3 cloves garlic, minced
1 medium-sized onion, chopped
1 medium-sized tomato, chopped
Instructions
Clean the Ampalaya and slice in half lengthwise, remove the seeds and innards
Soak the ampalaya in 2 cups of water with 1 tbsp salt for 5 to 15 minutes.
Rinse the Ampalaya until dry.
In a Pan, heat the oil and sauté the garlic, onion, and tomatoes.
Add the ampalaya and cook for about 5 minutes or until it is tender.
Add the beaten eggs, and cook until it firms up. Season with salt and pepper to taste.
Try not to overcook the ampalaya so that it can still retain a little of its crunchiness.
Remove from the Pan.
Best Serve with Rice.
The best way to prepare this Ampalaya With Egg Recipe is to cook it right before you're going to eat it so it's still hot. Besides, re-heating it cause it to lose its flavors and result in a bland leftover food. Make sure that you also use a fresh ampalaya that doesn't have soft parts. If you've already bought the eggs you're going to use beforehand, put it in the fridge to ensure its freshness. As always, eat it with steamed rice and partner it with
Sinangag
.